Sri Ramanuja Munaye Namaha,
Sri VelukkudiKrishnan Swami Guruve Namaha,
Dear All BhagavAtAs,
Sri Velukkudi Krishnan Swami's speech on "Swamy Doddayachariar Thirunakshathira Vaibhavam" is arumai. Sri Velukudi Krishnan Swami ThiruvAdigalaey Sharanam.
https://www.youtube.com/watch?v=ppl0Fbyy9GI&list=PLhrdHlkOIj-Wkq1GdJdLUt15klqogac2R&index=4
Acharyan Swamy Doddayachariar:
Thirunakshathiram: 01Feb'1543 "Maasi Uttiraadam". This year on 03Mar'2019.
Avatara Sthalam: Cholasimhapuram (now as Sholinghur)
Thirunaamam: Srinivasa MahaGuru, MaharyAr, DoddayachariAr.
Lineage: Swami Ramanujar's THirumeni Sambhandhi is 2nd Acharyar Swamy MudhaliAandan ThiruVAmsam. 12th Acharyar is Swami Dhoddayachariar.
Sholinghur Perumal-Thayar: BhaktaVatsalan (Bhaktochithan) and Amrithaavalli Thayar.
Thirunaadu Alangarithadhu: Swamy Reached HIS Acharyan THiruvAdi in SriVaikuntam on 1607 while doing Kainkaryam in SriMushnam divya desam.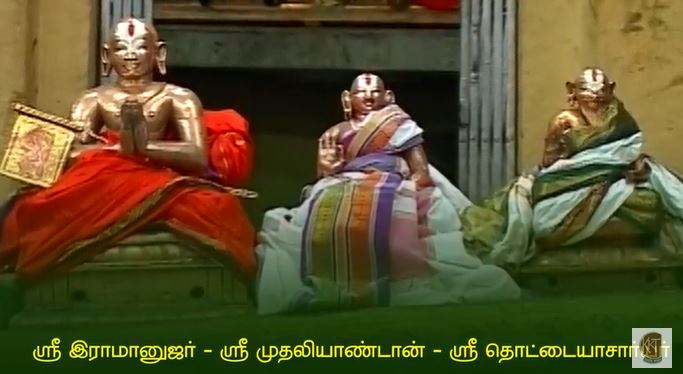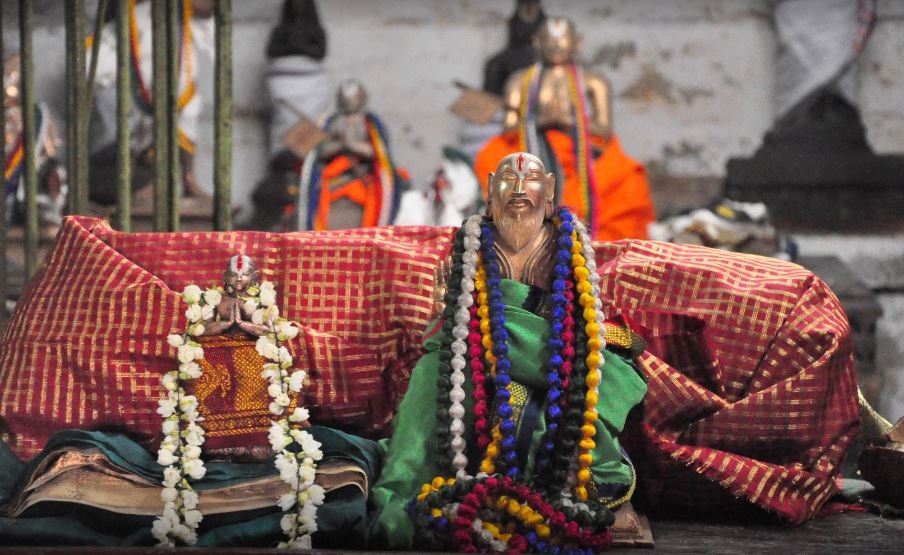 Swamy Doddayachariar Thaniyan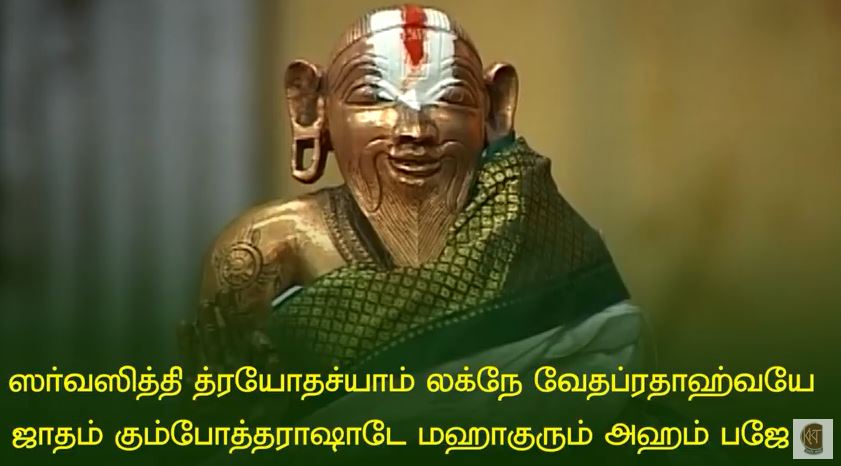 A Versatile scholar in Sanskrit and Tamil, he authored number of books and won laurels as great religious debater. He was blessed with visions of Lord Sriman Narayanana, Especially the Garuda Sevai of Lord Varadharaja perumal of Kanchi during his Brahamostavam, He had the distinction of completing reconstruction and renovation of number of temples especially the ones at cholasimhapuram and Thillai thiruchitra kootam.
Did Vyakyana Grantham "Chandamaarutham" for Swamy Vedanta Desikan's "ShathaDhooshani" grantham.
Sri Velukkudi Swami says, Shishyas of Swami DoddayachariAr call themselves as "Adiyen Srinivasa Dasan", and Sri Velukkudi Krishnan SWami calls self as "Adiyen Srinivasa Dasan" at the end. So, Sri Velukkudi Krishnan Swami should be same lineage as Swami DoddayachariAr GuruParamparai.
Adiyen Sri Velukkudi Krishna Dasan,
Sri MahaAcharyayA Mangalam,
Uyya Oraey Vazhi UdayavAr ThiruvAdi,
Sarvam SriKrishnarpanam Asthu