Sri Ramanuja MUnaye Namaha,
Sri Velukkudi Krishnan Swami Guruve Namaha,
Dear All BHagavAtas,
Thai Punarpusam was our Acharyar Embar (Govinda BHattar) Swami's ThiruNakshatram. Sri Velukkudi Krishnan Swami has informed about Upanyasam on Jan 20th about Embar Swami on HIS ThiruNakshatram.
Adiyen is copy pasting about EMbar Swami's Vaibhavam from a GuruParamparai blog based on Swami's upanyasam. Please also listen to Swami's GuruParamparai Upanyasam series in TTD  https://www.youtube.com/watch?v=Z7GSvDDbqHc. It's been a while, so adiyen not sure of the exact episode number where Swami says about Embar Swami's Vaibhavam.
Thirunaamam : Embar, Govinda Bhattar
Oran Vazhi GuruParamparai Lineage : Next Acharyan after Swami Ramanujar
Thirunakshathram: thai, punarpUsam
avathAra sthalam: madhuramangalam
AchAryan: periya thirumalai nambi
Sishyas: parAsara bhattar, vEdha vyAsa bhattar.
Place where he attained paramapadham: thiruvarangam
Works: vijNana sthuthi, emperumAnAr vadivazhagu pAsuram.
gOvindha perumAL (Embar) was born in madhuramangalam born as the son of kamala nayana bhattar and sridhEvi ammAL. He is also known as gOvindha bhattar, gOvindha dhAsar and rAmAnuja padha chAyaiyAr. He eventually and popularly became to be known as embAr. He is a cousin of emperumAnAr and was instrumental in saving emperumAnAr from being killed during vAraNAsi yAthrai with yAdhava prakAsar.
https://guruparamparai.wordpress.com/2012/09/07/embar/
Embar Swami Thaniyan:
rAmAnuja padha chAyA gOvindhAhva anapAyinI
thadhA yaththa svarUpA sA jIyAn madh visramasthalee
ராமானுஜ பதச் சாயா கோவிந்தாஹ்வ அநபாயிநீ
ததா யத்த ஸ்வரூபா ஸா ஜீயாந் மத் விச்ரமஸ்தலீ
[gOvindha bhattar who is inseparable from srI rAmAnuja like the shadow of the lotus feet and the one who realised his true nature by taking refuge at srI rAmAnuja's lotus feet, is the shade giving abode for me (where I can be relieved from my miseries). Let that embAr be victorious.]
Adiyen Sri Velukkudi Krishna Dasan,
பட்டர் தொழும் எம்பார் பொற்பதம் இரண்டும் வாழியே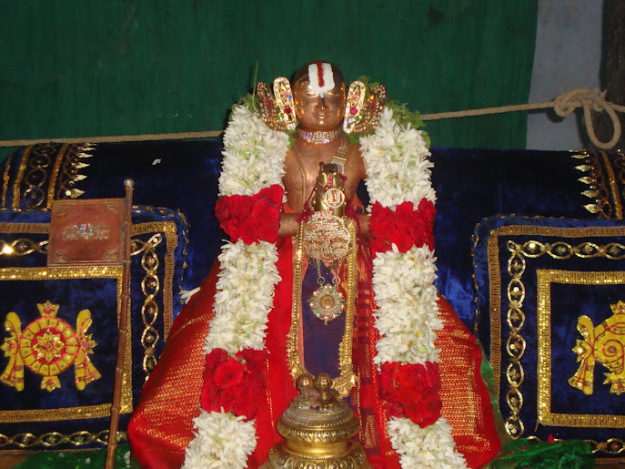 Uyya Oraey Vazhi UdayavAr THiruvAdi,
Sarvam Sri Krishnarpanam Asthu